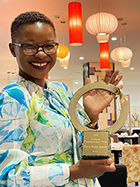 Gloria Majiga-Kamoto was selected for her work tackling the plastics industry and galvanizing a grassroots movement in support of a national ban on thin plastics, a type of single-use plastic. Her "great awakening," as NPR notes, came when she saw how discarded plastics were killing local goats and affecting people's livelihoods and health. As a result of her dedicated campaigning, in July 2019, Malawi's High Court upheld the ban on the production, importation, distribution, and use of thin plastics.
You can learn more about Gloria and her efforts on the Goldman Prize website.
Thai Van Nguyen's journey to protect pangolins began when he was 8 years old. That was when he saw a baby pangolin and its mom being caught and killed by neighbors in his village.
Pangolins are the world's most trafficked mammal, prized as a food and medicinal source. Experts estimate that more than a million pangolins have been snatched from the wild in the past decade, threatening the species with extinction.
Thai founded Save Vietnam's Wildlife in 2014 to help save the species. Through his leadership, the organization has rescued 1,540 pangolins from illegal wildlife trade and significantly reduced illegal poaching activities.
As Thai notes in his acceptance speech for the prize, "Thinking is not enough. Please take action."
You can learn more about Thai's efforts on the Goldman Prize website.