Two exchange alumnae are among the five women honored at the Vital Voices Global Leadership Awards held on International Women's Day 2017. Vital Voices is a non-governmental organization that partners with women leaders to advance women's economic empowerment, women's political participation, and human rights worldwide. Every year, Vital Voices bestows Global Leadership Awards to women leaders who have made strides toward these goals.
Photo Credit,

Vital Voices

Nadia Bushnaq, the Founder and Executive Director of the Family Guidance and Awareness Center (FGAC) in Jordan, is this year's winner of the Human Rights Award. Ms. Bushnaq is a dedicated women's rights activist whose center offers legal assistance, psychosocial support, and education services for refugees in Jordan.

Ms. Bushnaq's tireless work has created programming that directly helps refugees, especially refugee women; she has developed training programs that guide women through the transition to post-conflict life and manages a refugee hotline that answers 120 calls per month on legal issues, psychological issues, and education.

Nadia Bushnaq participated in a 1994 International Visitor Leadership Program (IVLP) exchange focusing on sociology and social work. She founded the Family Guidance and Awareness Center in 1996.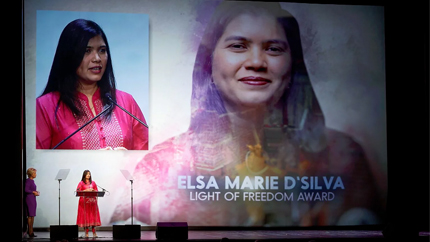 Photo Credit,

Vital Voices

ElsaMarie D'Silva is the founder and CEO of Red Dot Foundation (Safecity), India, and the winner of this year's Light of Freedom Award.

Ms. D'Silva, a digital gender activist, created Safecity as a platform where victims of sexual violence and abuse could document these events anonymously for community members to track and analyze. Safecity is helping women bring invisible issues to light and helping communities in India, Cameroon, Kenya, and Nepal respond to these problems.

ElsaMarie D'Silva is a 2016 alumna of the Fortune/US State Department Global Women's Mentoring Partnership Program.   

Exchange alumni have also been Global Leadership awardees in past years: since the 2002 inauguration of the award, 17 of its recipients have been Department of State exchange alumni. Notable alumni include Inez McCormack, a 1990 IVLP participant honored in 2002 for her contributions to the Good Friday Agreement; Maria Pacheco, a Fulbright 1987 and 2006 IVLP Voluntary Visitor alumna honored in 2007 for her efforts to bring entrepreneurship to rural Guatemala; and Rosana Schaack, a 2007 IVLP and 2008 Humphrey Fellowship Program alumna honored in 2012 for her advocacy and rehabilitation of girl child soldiers in Liberia.